Frequently Asked Questions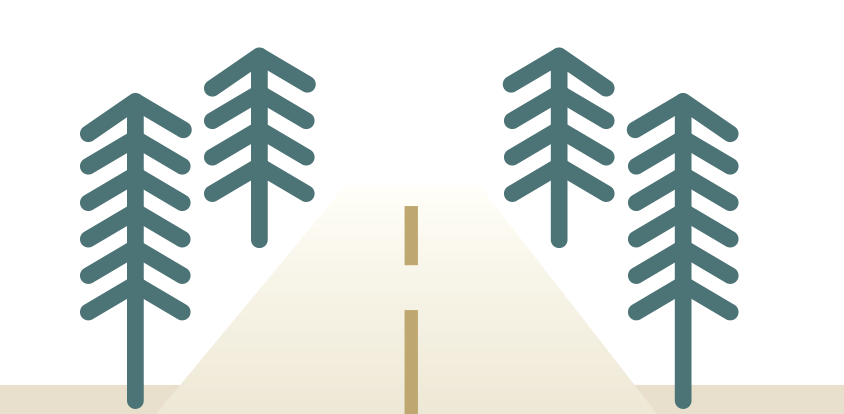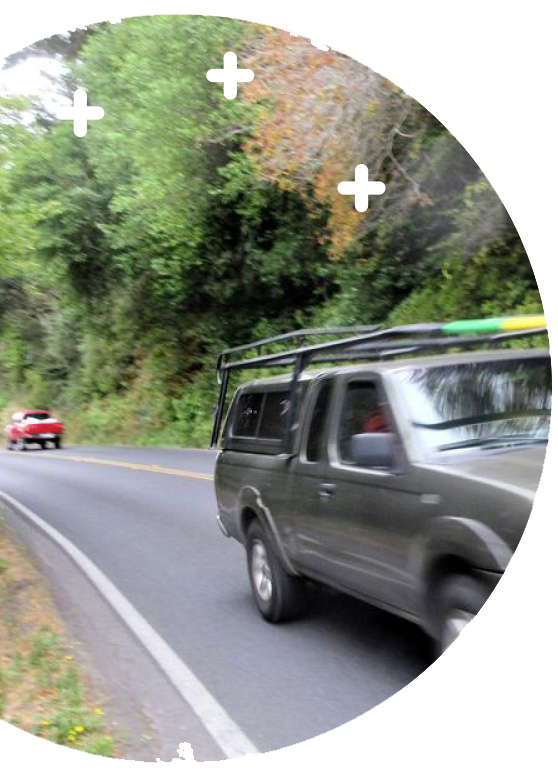 What is Upgrade the Drake?
Upgrade the Drake is a Marin County project which will rehabilitate 2.2 miles of Sir Francis Drake Boulevard between Highway 101 and the Ross' southern town limit, an 18-month project that will include many safety enhancements. Sir Francis Drake Boulevard is a major east-west corridor located in Marin County, and connects community members to key destinations and activity centers.
What improvements will be included?
In addition to repaving, the project consists of pedestrian/cyclist safety improvements, striping, intersection and signal improvements, traffic operation improvements, utility infrastructure improvements, and new street lighting.
Why is the metal guard rail being replaced by post and cable fencing?
In the late 1960's, the County installed metal guardrails along one mile of Sir Francis Drake Boulevard, between Wolfe Grade and Elisio Drive. As part of the 2020 Upgrade the Drake project, the County and project team reviewed existing conditions along the 2.2-mile stretch of the corridor. Based upon current Caltrans standards, the County determined the guardrail was unnecessary except for a segment between Wolfe Grade and Manor Road where the guardrail will remain in place.

Post and Cable Fencing
The existing guardrail along Sir Francis Drake Boulevard will be replaced with a 44-inch tall post and cable fence, with the exception of the segment mentioned above. By removing the guardrail along Sir Francis Drake Boulevard, the County can install new fencing 18-inches away from the curb to provide an additional buffer between motorists and pedestrians/bicyclists.




The new fencing is taller than the guardrail, which will prevent pedestrians and bicyclists – particularly children – from falling into the roadway. Additionally, this improvement allows for wider sidewalks throughout the corridor, making it easier for those walking and biking to travel. A comparable post and cable fencing is located on Camino Alto near Mill Valley Middle School, in the City of Mill Valley.
Along with the new fencing, the County will also stripe a six-inch wide fog line at the edge of vehicle lanes. Fog lines at the edge of the travel lanes clearly mark the separation between travel lanes and shoulder areas.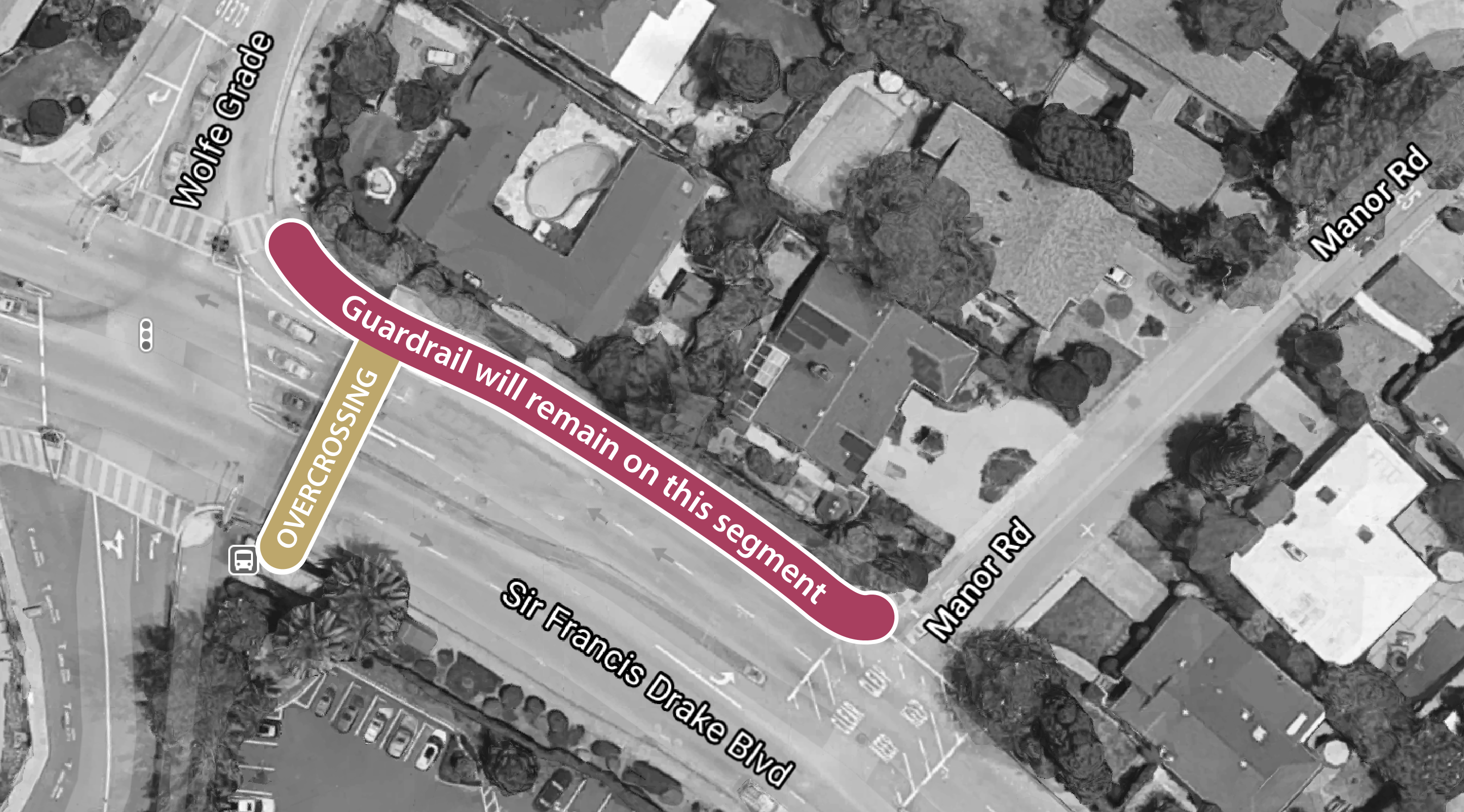 Guardrail Segment Between Wolfe Grade and Manor Road
Guardrails are installed on roadways when there is a large, fixed object that vehicles could potentially hit. The pedestrian overcrossing at this location of Sir Francis Drake Boulevard is an example of a fixed object; the guardrail in front of it protects drivers from running into the overcrossing's concrete column. This section of guardrail will also remain for the following other reasons: the pedestrian overcrossing regularly serves high levels of foot traffic; there is a history of vehicle crashes at this location; there is a curve in the road between Wolfe Grade and Manor Road; and there is a lack of shoulder at the left turn lane onto Wolfe Grade.



How long will it take for this project to be constructed?
Construction is anticipated to begin in June 2020 and last for approximately 18-months, dependent upon weather and other potential construction-related delays. Construction activities are anticipated to continue through December 2021.
Why did the County decide on nightwork for this project?
The project was bid as nighttime work to minimize disruptions to peak traffic flow along the corridor.
Construction is currently being accelerated to take advantage of lighter-than-normal traffic conditions during the COVID-19 pandemic. The County will continue to monitor traffic conditions as changes unfold with shelter-in-place restrictions. If traffic conditions permit, there will be daytime work as well to reduce nighttime noise disturbance in nearby neighborhoods.
Will Sir Francis Drake Boulevard close at any point during construction?
There will be no full closures of Sir Francis Drake Boulevard during construction. However, the construction team anticipates partial lane closures and traffic delays throughout the process.
Can I expect traffic delays during construction?
Yes, the project team anticipates there will be traffic impacts during construction. The County thanks the community for their understanding, and suggests travelers plan their trips through the project area ahead of time.
Will businesses near the project area remain open during construction?
Yes, businesses along Sir Francis Drake Boulevard will remain open during construction. The project team suggests checking your local businesses' website or social media pages for information about their current hours of operation.
What are the project construction costs? How is this project being funded?
Upgrade the Drake is estimated to cost a total of approximately $18 million. The Transportation Authority of Marin (TAM) allocated $14.5 million for the project from its Major Roads Project Fund. Those funds come from the Measure A transportation sales tax, which passed in 2004. Marin County staff secured approximately $3,465,000 from other stakeholders including the County Service Area 17 (Kentfield-Larkspur), the Marin County Street Light Fund, MCI/Verizon, and various grants. The Marin Municipal Water District agreed to reimburse the County for the base bid amount of $3 million for replacement of their its pipeline as well all other associated costs. Finally, County Public Works staff continue to work with TAM, the City of Larkspur, and other stakeholders to seek additional funding to offset the $3.3 million impact to the County's Road & Bridge Capital Improvement Fund.
How can I stay updated about the project and construction activities that may impact me?
The project team will be updating this website on a weekly basis with traffic and construction updates. You can also sign up to receive e-mail updates here or call a project hotline with any questions. Project team members will respond to all inquiries within 24-hours.